The Potts Law Firm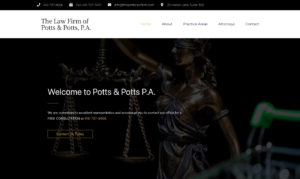 The Potts Law Firm is located in Baltimore, MD. Their old site had not been updated within a decade and was hosted on an outdated platform. As a result their SEO rankings were not even on the radar, and potential customers had no reliable method to contact for service. Additionally, it was evident that the site was infected with malicious content which had gone unnoticed until we stepped in.
Vectrotech was able to quickly design and deploy a new site and hosting environment to provide them with a beautiful, responsive website. The site is now hosted in a modern environment using the latest version of PHP, WordPress and MySQL – which provides the safest and fastest website experience. Contact forms are embedded on every page and website conversions are easier than ever!
This website was built on a minimal budget and deployed within a week. Contact Us today to find out how you can improve your old and outdated website with out breaking the bank.